SMALL BUSINESS SPOTLIGHT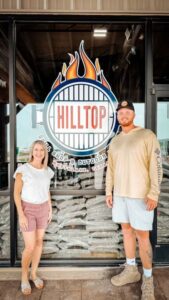 If you've driven down 407 just past Harvest recently, chances are you've noticed a huge change at
Hilltop TX
Not only are they expanding their storage area, grilling/smoking accessories and adding a new digital sign, they've also brought
Hilltop Truck Park
to life! This whole area is family owned and operated. We met with Trouper to learn more about this growing business.
Hilltop started in 2017 as an RV storage park, but business was slow and it was a pipe dream to grow larger and open a grill shop. They added amenities to the storage area and it quickly elevated their business. They currently offer covered and uncovered boat & RV storage with 24 hour access and more than 50 cameras.
In 2021, they added a few small grills to the shop they were able to open. And as the shop has grown, they have been able to add different grills and smokers as well as seasonings and accessories. And, if you didn't know, they are home to The Rib Whisper and The Ultimate Smoker and Grill, who cooks good food for good people. They really know what they're doing in the meat department, their long standing relationship with brands like Mrs. Baird's and Tyson's and Guinness World Record shows that!
As if there isn't enough you should check out, Hilltop has a "ghost kitchen" that several local businesses operate out of. There's also an Airbnb behind the grill shop that's perfect for a guy's (or girl's) night or family in town who need their own space.
Closer to 407 is Hilltop Truck Park with 7 trucks daily. From the best breakfast burritos to smashburgers to snow cones and everything in between, they're sure to have something to tickle your tastebuds. Check Hilltop Truck Park's Facebook weekly to see what tasty trucks you can find! And a little Argyle Insider information, there will soon be space for 12 trucks.
Stop by and give them a visit. Grab a new seasoning for tonight's dinner or stop by the truck park and grab dinner. Go in just to check it out or ask about the family's long standing history in our area. Regardless of your reason for visiting, this is welcoming a place for everyone. Tell Trouper we sent you!
8356 Thompson Rd, Northlake, Texas
817-412-1391
M-Sat (Store)
Daily (Food Trucks)
www.hilltoptx.com