SMALL BUSINESS SPOTLIGHT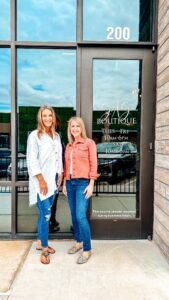 If you've been looking for the perfect pair of jeans or jean shorts… LOOK NO FURTHER!
SAS Boutique Northlake
is sure to have the perfect pair for you. Not a jean gal? That's ok. There are so many beautiful pieces of clothing to choose from, you're sure to be the most stylish person in a room.
After being inspired by her two grandmothers amazing fashion sense while growing up, SAS owner Kyra Neff knew she wanted to help women feel and look their best. It is important to her that every person comes in as a customer and leaves as a friend. Having a relationship with each person is vital. Afterall, the SAS motto is that everyone has beauty, they just enhance it!
The original SAS in Santa Anna has been open for 18 years. In fact, on Thanksgiving day a few years ago 4 Argyle ladies, who didn't know each other, all shopped at SAS and told Kyra how amazing it would be to have a boutique just like hers in Argyle. Seeing this as the sign from God she had been looking for, SAS opened their second location a short time later in the Northlake Commons.
SAS currently features brands like Dear John, Ivy Jane, Show Me Your Mumu, Johnny Was and many more! They carry everything from sunglasses, hats and bags to shoes, jewelry and clothing (and super cute Swig items). This is a one stop shop for the perfect outfit or gift. Make sure you stop in and tell her The Argyle Insider sent you!
100 Plaza Place, Suite 200, Northlake, Texas
940-240-4065
Tues- Sat
www.SASBoutique.net