SMALL BUSINESS SPOTLIGHT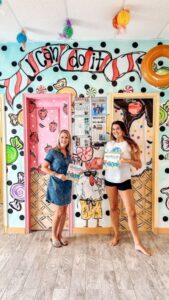 With summer in full swing, what's more important than knowing your child is safe around the water? At
Swimming Fishies Swim School
99% of their students learn to swim in 9 lessons! In fact, since moving to their new candy and food themed location, owner Danielle has seen many students swimming in just 3-4 days because of the fun learning atmosphere.
The coaches work one-on-one with their students to provide a truly private lesson, and make swimming fun and yummy. What do I mean by that? Upon walking into the building, you can tell it's going to be fun. The yummy food themed walls and words of affirmation all play into the lessons taught.
This school is committed to teaching your child age 2 and up water safety and how to swim with their no nonsense, tough love learning environment. From day one your child will put their face in the water and learn important swimming skills. Don't worry, if you don't know how to swim, they teach adults too!
With 17 years of coaching experience, Danielle has perfected a swim school curriculum that gets kids excited and helps them remember what they learned. Her number one goal is teaching water safety and drowning prevention. In fact, she is speaking on that at the International Pool and Spa Expo in Las Vegas this fall!
Signing up for classes is easy with Swimming Fishies, no contract, no commitment policy. Just go to their website and schedule classes when it's convenient for you. You pay as you go. There is still plenty of time to get your little one swimming like a fishy at this one of a kind school that is open until October!
Pssst… a little Argyle Insider information… The rest of July is 35% off!
820 Indian Trail, Argyle, TX
(214) 997-3065
(469) 995-0657
M-Fri: 9am-8pm
Sat: 9am-6pm
Sun: Closed
swimmingfishies.net