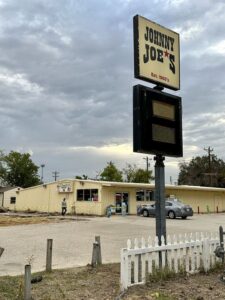 Exciting News for Our Community!
The rumors are true! Get ready to welcome a brand-new restaurant that's set to replace Johnny Joe's on 377.
Introducing Jim Reid and his incredible vision for transforming the old into the new! Jim is all about embracing the past while crafting something fresh and exciting. His passion is evident as he's bringing an upscale, family-friendly burger restaurant to our town, inspired by the massive success of his renowned
Little Matt's
in Houston (which was formerly an old auto garage).
As they work through zoning and concept planning, Jim and his team are gearing up to bring us an establishment that's not just a restaurant, but a hub of community life. Picture this: a place where moms can unwind with a cup of coffee after school drop-offs, where kids can grab a snack post-school, and where families can gather for delicious meals from breakfast through dinner.
"As Argyle continues to grow it will bring along new memories for the generation to come. I hope they cherish the magic that is Argyle. I'm am forever an Eagle and Argyle pride runs deep in our family."       -Perry R.
But that's not all – there's something truly heartwarming about this new venture. Little Matt's, Jim's pride and joy in Houston, doesn't just serve great food. It serves a purpose. Profits from Little Matt's are channeled towards supporting families at Texas Children's Hospital who are bravely fighting cancer. With a history close to his heart, Jim understands the battles these families face firsthand. He recently lost his own son after his courageous journey with cancer during childhood.
Jim's determination to make a positive impact doesn't stop there. The incredible initiative that has already touched the lives of over 400 kids a month is set to expand to our own community. Jim has reached out to the Dallas children's cancer community, intending to extend the same kind of support here.
Stay tuned here on The Argyle Insider for updates on the restaurant's progress!