SMALL BUSINESS SPOTLIGHT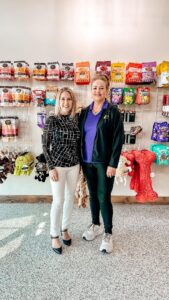 One of the latest and greatest things around town is
It's A Paw Thang
. If you have a dog, and you don't know about this gem in the Northlake Commons, are you in for a treat! Not only can you make an appointment to have your dog groomed, you can also use their washing stations to groom your pet yourself.
After a lengthy career in corporate America, owner Penny knew she didn't want to go back. She wanted something she would enjoy each day. She saw a need in our area for a groomer and self groom location. When the opportunity fell into her lap, she decided to go for it and open It's a Paw Thang.
It's a Paw Thang offers staff washing, grooming and deshedding services that are beyond expectation. They are one of few area groomers who have an on site, experienced hand stripper for terriers and spaniels. You will need an appointment for these. They also have additional services including nail trimming and filing that welcome walk-in's.
At this pup salon, you'll find 5 wash stations equipped with aprons, towels, several professional shampoos with the most delightful scents that last and a dryer. Everything you need for making your dog his or her best self. No appointment necessary to self groom.
As if your furry family member wouldn't be pampered enough here, on your way out be sure to check out all of the amazing treats, toys and accessories. For pricing and more information, call or check out It's a Paw Thangs website. I'm sure you and your pet will love it!
1236 FM 407 E Suite 500, Northlake
(940) 441-1109
Tues-Sat 9-6
Sunday 12-5
itsapawthang.com