SMALL BUSINESS SPOTLIGHT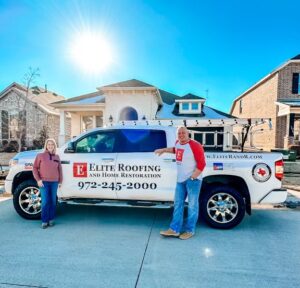 Honest, quality work, and trustworthy are all things we all look for when having our roofs redone or inspected.
Elite Roofing
was created to fit that need. If your roof has damage, you get a detailed report with photos and owner Jimmy Dejewski walks you through the process from start to finish. Elite Roofing offers free roof inspections year round too!
While working as a roofer for another company, Jimmy saw his family, friends and church family being taken advantage of after a hail storm by out of town roofers. He wanted to use his knowledge and skill to make sure the people he knew were taken care of, not taken advantage of. That love of his community has grown into an amazing company that stays with you for a lifetime.
In Jimmy's own words, he went from working off of a TV tray in his little apartment, to being selected by nationally renowned Designing Spaces to showcase Elite Roofing.
He keeps his business small and personal "because I like it that way". Jimmy likes to say, "The house is yours but the roof is mine." With Elite Roofing you don't just get a guy who's going to fix your roof, you get a lifetime roof guarantee and a lifetime friend. To find more, follow his facebook, check his website or just give him a call! Be sure to watch his feature on
Designing Spaces
!
1511 Harpole Rd., Suite E Argyle
972-245-2000