SMALL BUSINESS SPOTLIGHT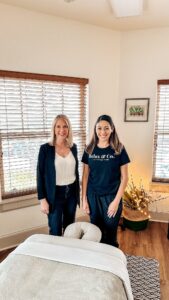 Upon entering, you instantly begin feeling relaxed.
BelaxandCo
is a tranquil massage studio located in Argyle right above Salon 377. This brand new business is owned by Stephanie Castillo who has been a massage therapist since 2007. (That's 16 years of experience!) While her husband was in the military, she was able to work at several different places including Barton Creek Resort and Spa in Austin.
Vegan cream that is nut and oil free is used for massages to help with different skin types and allergies. Stephanie specializes in 5 different types of massages. The Back/Neck/Shoulder massage is the most popula
r among clients and has a medium to firm pressure. Deep tissue is a firm massage using body weight and elbows to dig deep and release tight spots. Relaxation is exactly what it sounds like; a light pressure, relaxing massage. Prenatal is offered to expecting mothers after their first trimester. It is firm on the hips and a mixture of relaxation and deep tissue. Sports massage is perfect for any athlete looking to focus on a specific area of their body to loosen up.
If you're looking for the perfect way to relax, get the kinks out and feel better all around, this is the perfect place for you. Belax and Co. offers individual and package pricing for all 50 and 80 minute massages. Scheduling is a breeze! Simply head over to their website and click "Book Now".
138 N Old Town Blvd Unit 204 Argyle, TX 76226
By appointment only
belaxandco.glossgenius.com