SMALL BUSINESS SPOTLIGHT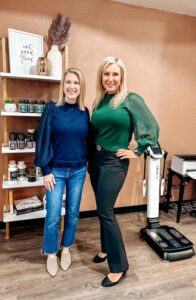 New year, new you? What about improved you? Healthier you? A you who makes better choices? That's exactly what Janna and Chantelle at
Janna Weaver Nutrition & Wellness
are here for. As licensed and registered Dietitians with thousands of hours of experience and an outstanding track record, these ladies are sure to make your health goals an achievable reality… and they take most major insurances.
If you're like me, you're wondering how a Dietitian can help. Janna and Chantelle look at information from each individual client and create a plan based on YOUR body composition by using their InBody Machine. This scan gives a breakdown of muscle mass and fat mass among other measurements, and gives a better understanding of your overall body composition. This is important because it tells them where to start on your health journey when creating individualized meal plans.
Did you know, exercise supports healthy habits but diet is #1? Janna and Chantelle work to create a realistic plan for you and take it one step at a time to begin long term healthy habits. They work with nutrition, weight, diabetes and cholesterol among other medical conditions to get them turned around. So what are you waiting for? New year, same you? How about new year, healthier you!
306 HWY377 N, Suite F, Argyle
940-464-9800
By appointment only